Moderators: Pike Ridge Beagles, Aaron Bartlett
Does anyone have any good ideas on how to make a good lightweight truck box??


---
Hunter, I couldn't begin to tell you how to make one, but we just bought a truck box and 8 dog houses from Crossroads Hobby Shop in Russell Springs, KY. They are very lightweight insulated aluminum and the quality is unmatched for the money. We bought a huge truck box, 48" x 44" with storage in the top, and other than being awkward, it would be a one-man lift. His prices are very reasonable. A fellow beagler on this board referred us to him.

If you decide to buy instead of build, call Bobby Guffey at Crossroads Hobby Shop, 270-866-5262, or watch for his upcoming ad in The American Beagler. He will build to your specs. (he even makes the sports boxes that go on the back of an ATV).
---
blackdirt beagles
Check out Dan's Deluxe Dog Boxes. I got mine about 7 years ago and other than some scratches (my fault) it's as solid as the day I got it. I got one for a smaller truck and it will hold 6 to 8 beagles comfortabley. The price was $270 delivered to my house. It's light enough that I can load it myself. Very nice product

---
Both Bev and Brian recommended good boxes (The ones Bev described sounds good, the Dan's boxes are good too, I have seen those). If you are wanting to build your own box out of wood materials, go to this link for super plans:
http://rabbithuntingonline.com/magazine ... e.php?id=5
I stopped by a local welding shop and found someone who was a great welder and showd him my own specs for a box. He custom built my box from diamond plate aluminum for MUCH less than what I could have bought a similiar box for from a retail outlet. I had him even make the vents in the shape of a posed or "benched" beagle! I have had numerous folks at trials and hunts approach me and ask where I got such a good looking box at! And best of all it was built to my specifications at a very reasonable price.
+++
He's coming....are you ready?
---
---
Myself, my daughters and my son all have fiberglass dog boxes, lightweight, easy to load, cool in summer and warm in winter. We bought
them here in Ohio. The fellow who make the crystal coon light makes
them.
---
---
At the time I am going economical with one 55 gal. drum with 2-2x6 with a rounded notch cut in them for the drum to rest in. I spent about $10 total for hardware(latch and hinges) and it seems to work. Maybe later I will upgrade. Thanks for the input. Paul
---
---
Posts: 442
Joined: Thu Jan 16, 2003 9:37 am
Location: Ravenna, Ohio
This the box I made. I made in two pieces so that I can handle it myself.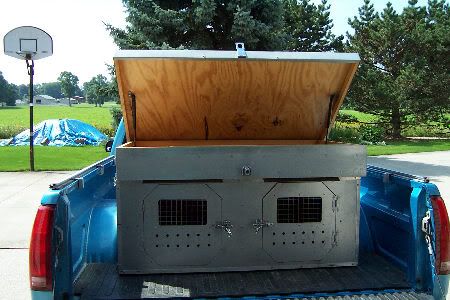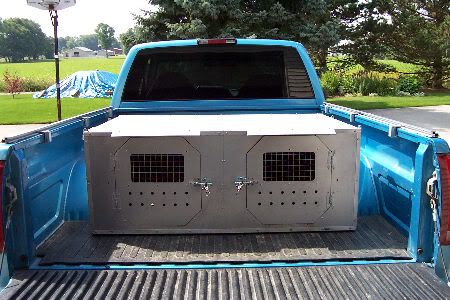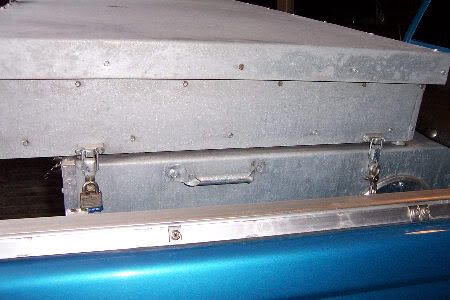 http://www.freewebs.com/rising_moon_kennel/
---
Posts: 22
Joined: Mon Jan 19, 2004 9:30 pm
Location: Sterling, CT
I'll give yall some good advice NOT to make it out of

I thought I struck a gold mine when I was offered scraps from a building project

Was I in for a big surprize when I built a dog box big enough for 2 dogs out of T111 to fit in the back of a full size Ford.


Holy Smoke I couln't believe how much the darn thing weighed

I thought I left the dogs in there.

---
I found these plans ... I'm gonna try them this weekend!

http://rabbithuntingonline.com/magazine ... og_box.htm
---